Holy guacamole! Summer ends in two weeks (at least for Nevada). This summer has been unreal…I have made this break count by always going somewhere and occupying myself with great things! Although it has been so nice to be off school, I am ready for schedules, new clothes, and getting to see my friends daily. My sisters, my mom, and I have been out getting a few basic school items such as supplies, backpacks, and fresh clothes. We put together some outfits from that haul to model our back to school style.
High Schooler //
I am going to be a freshman in high school…that's crazy. I don't even know what to think about that. All I can do is hope that it will be something like the High School Musical series. 😉 Here are three outfits that I put together with the help of my mom and sisters.
Dress //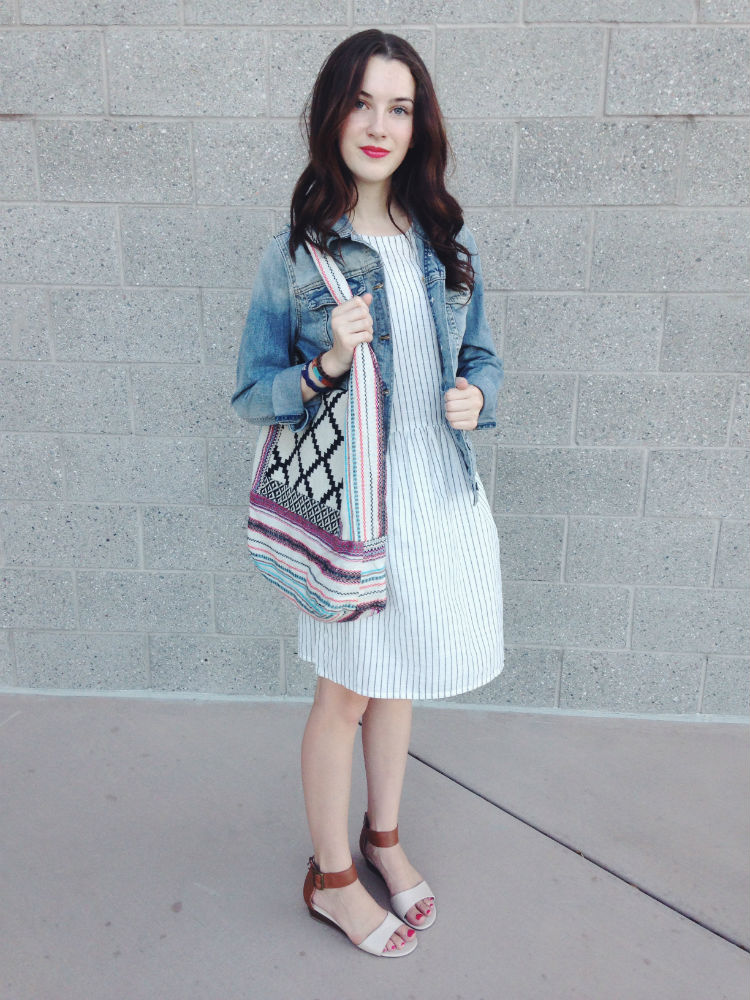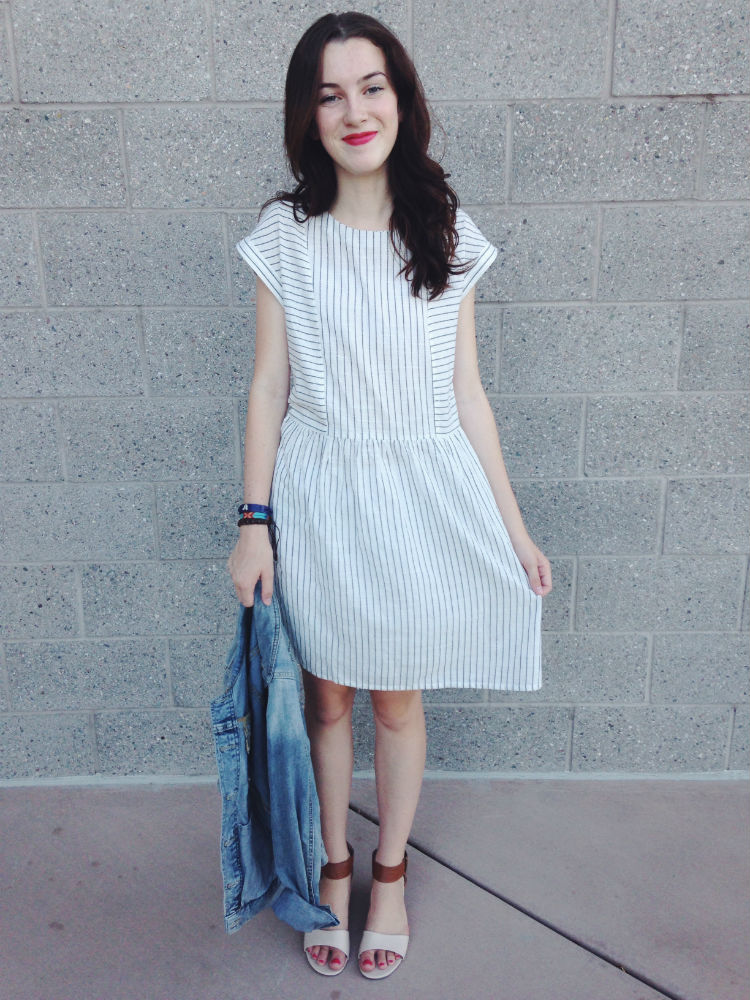 Striped Dress – H&M // Denim Jacket – Target Clearance // Sandals – Avon  // Bag – Target
Romper //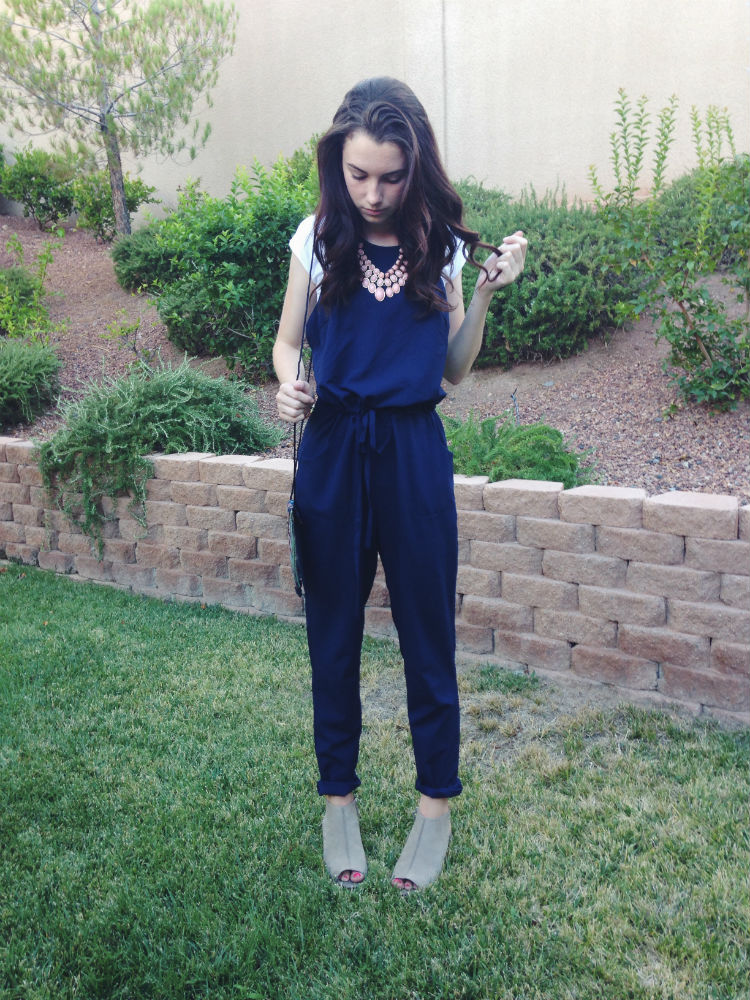 Romper – Marshalls // White Base Tee – Downeast // Shoes – Marshalls // Necklace – Similar at Charming Charlies // Tribal Phone Purse – World Market
Purple Blouse //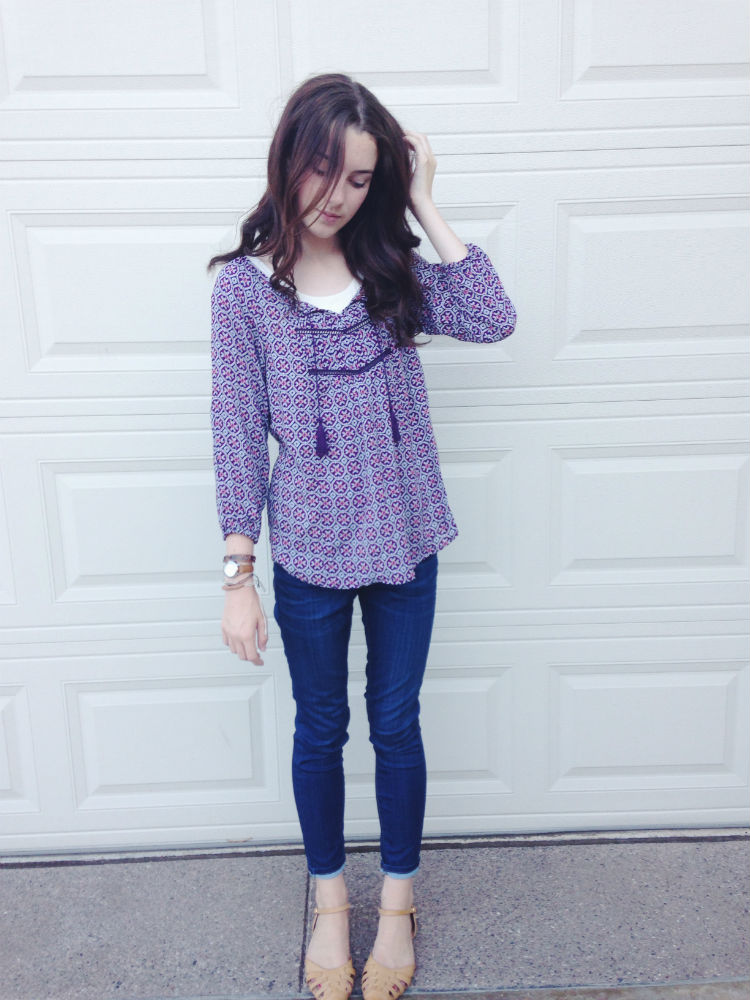 Blouse – Target // Cream Base Tee – Downeast //  Jeans – Target // Shoes – Nordstrom Rack
Middle Schooler //
My lovely sister, Adelie, is still in middle school this year. She and I are around the same size so we share most of our clothes and our styles are similar.
Tee shirt //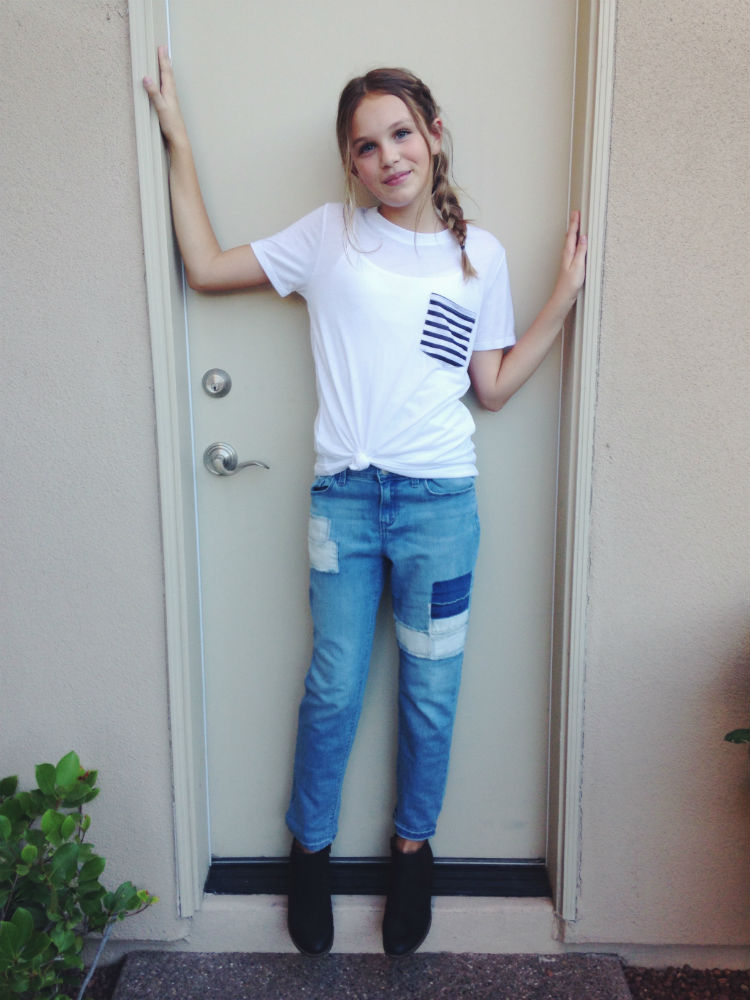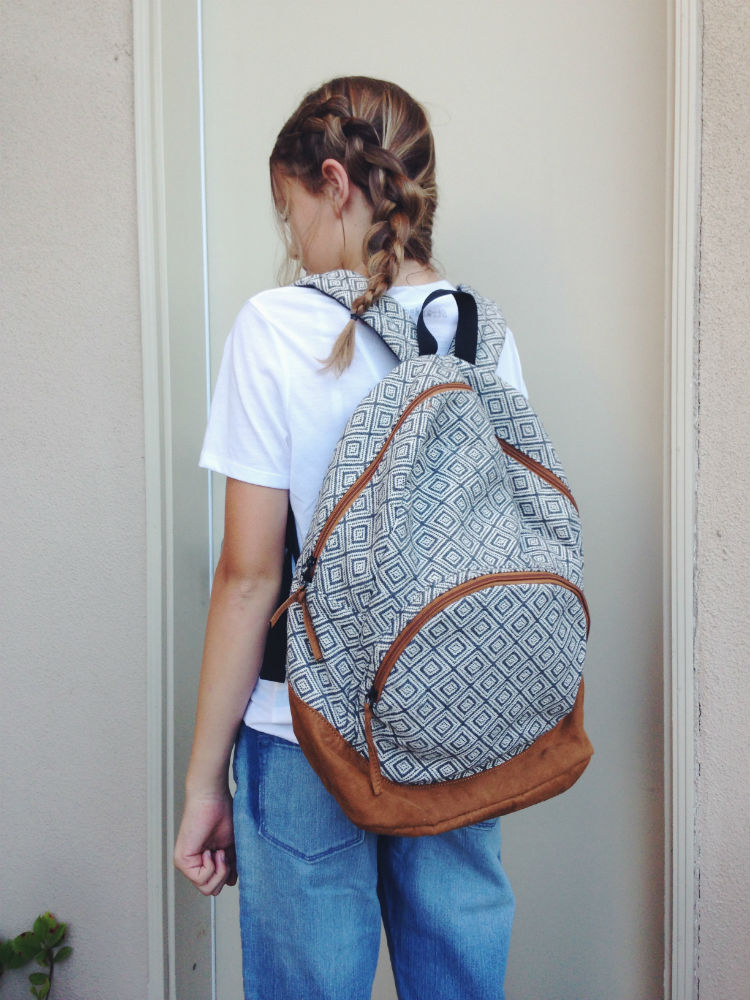 Pocket Tee – Target // Patched Jeans – Old Navy // Booties – DSW // Backpack – Downeast
Embroidered Blouse //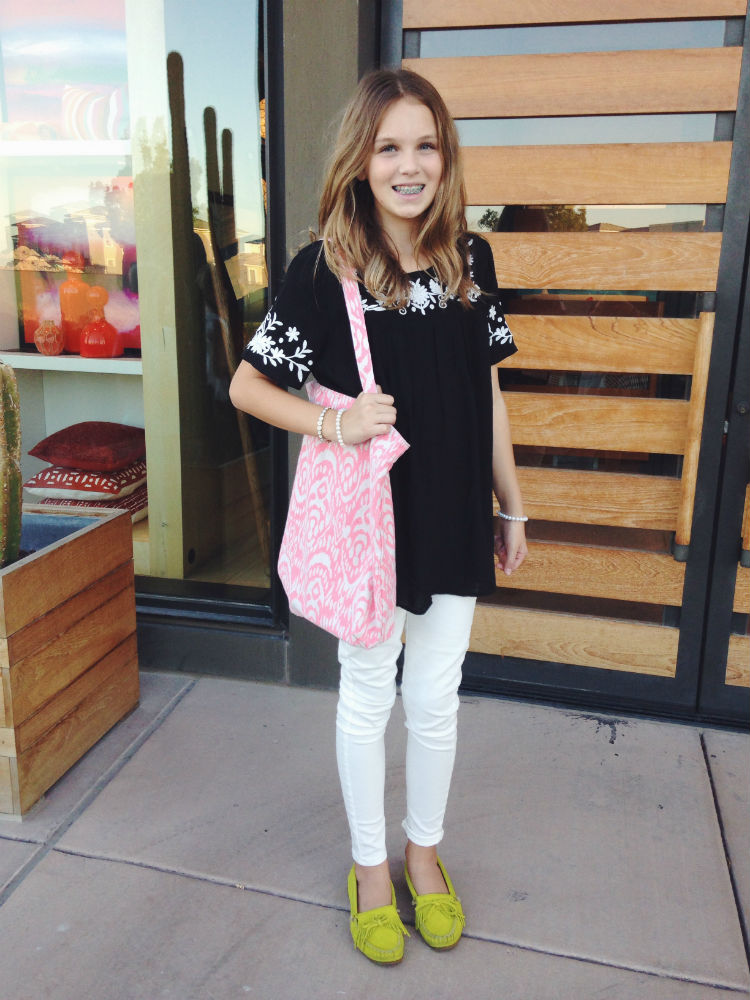 Embroidered Tee – Forever 21 (online) // White jeggings – H&M // Moccasins – Minnetonka // Bag – Target
Uniform Elementary //
At least in Henderson, Nevada, elementary schools are uniform. The kids have to wear certain colors but can have colorful accessories and shoes so that's where we have to be creative.
Casual //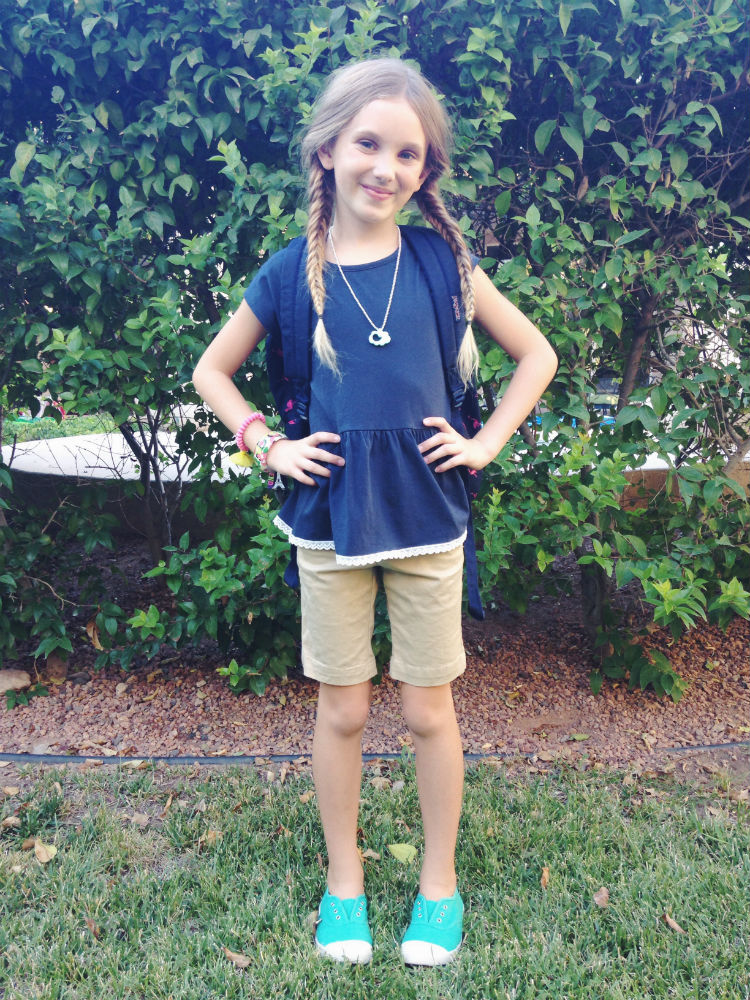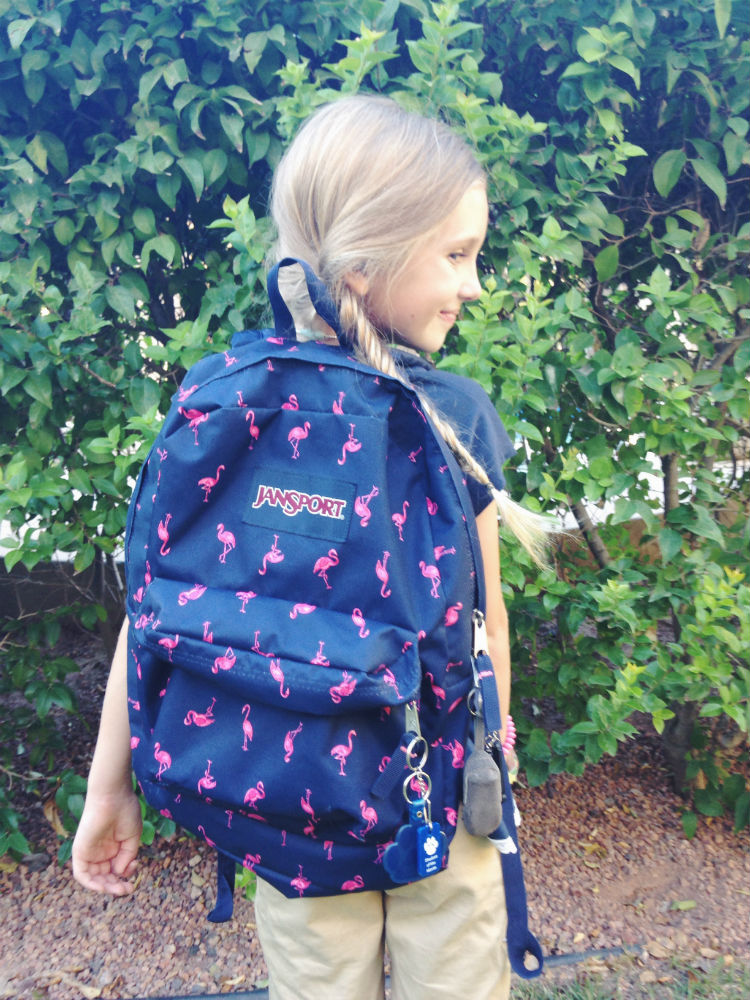 Navy Blouse – Nordstrom // Khakis – Old Navy // Shoes – Nordstrom // Jewelry – Osh Kosh, Gymboree, & Target
Skater Skirt //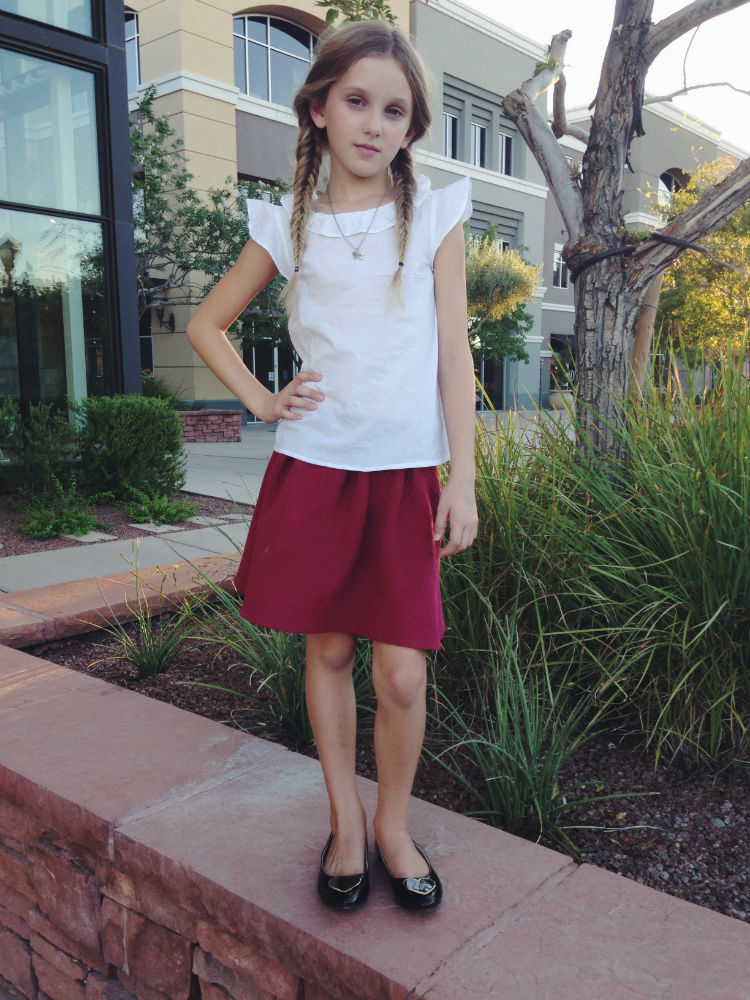 Blouse – H&M // Burgundy Skirt – H&M // Heart Flats – Target
Back to School Stores //
If you haven't picked up on the stores we like to shop at by now, here is a list of the places we made a trip to our we ordered from online.
Target – We got most items from here.
Marshalls – I have found some really cute dresses from here recently.
Ross – Amazing deals on shoes such as converse.
H&M – An all time favorite.
Forever 21 – online and in store.
Downeast – We get basics here.
Nordstrom Rack – it's cheaper than Nordstrom.
Old Navy & Gap
Favorite Go-To Pieces //
No matter how hard I try, there are clothing pieces that I am attached to and wear over and over. Here are some of those items:
holey boyfriend jeans – they go with everything and anything.
strappy sandals – oh so cute!
birkenstocks – yes. they are back in.
denim on denim – denim denim denim denim. that's all I have to say about that.
mixing patterns – it makes life so much easier.
army green – it's a good color.
embroidered blouses – like I said…great haul of these babies.
coral lipstick – I can't get enough.
accessories – this is how you can make a statement with your clothes.
stacked bracelets – the more the merrier.
//
xoxo // Whytli Briana